The management of Village Market has urged its tenants to stay put as they have not been served with any notice with regards to the ongoing demolition of premises built on Riparian Land.
The public notice from the management came after some business owners started moving out their goods for fear of losing their valuable belongings in the process.
"We wish to notify the general public that neither Village Market not the Tribe Hotel are built on Wetland. Further , we also clarify that neither the Village Market nor the Tribe has been issued with any environmental or demolition notice at all. Therefore media articles and reports alleging that the Village Market and the Tribe Hotel lie on Wetland and are earmarked for demolition are not true. We therefore take this opportunity to assure all our tenants, customers,staff, suppliers, and guests including other stakeholders that there is no issue pending with any government of law enforcement agency to warrant the demolition nor do we have any information or notice of any intended demolition" read the statement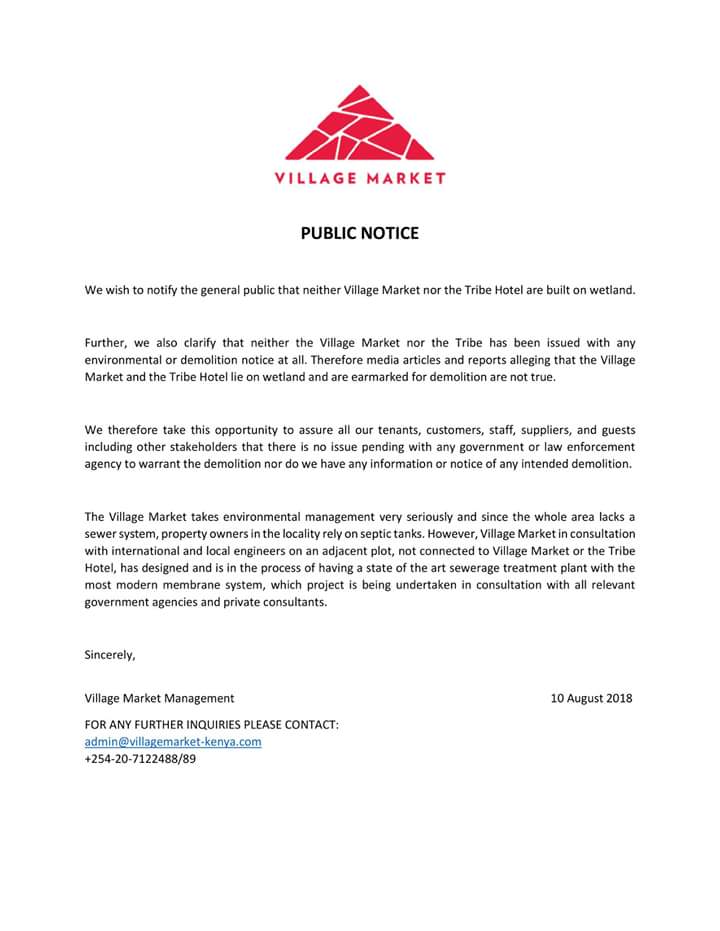 Members of the public have always remained keen on buildings that will be flattened as the government reclaims riparian land.
The goal is to clear illegal structures from river banks in Nairobi, a two-month exercise that will see 4,000 buildings demolished.
The demolitions are a litmus test for the national and county governments that have for decades been accused of allowing developments on riparian reserves, especially by wealthy politicians and government officials.